It's hard to believe that this year is already half over... I mean where has the time gone?! WOW! It's already July
(well almost)
. June was my third month to participate in foodie penpals and yet again, I had another great package arrive at our door!
This past month, Maria at
Pappa Don't Preach
was my foodie penpal. I knew she was going to be great when she reached out to me so early in the month. I had been anticipating the arrival of my package for a couple weeks when it appeared at our front door. Once I opened the package, I found lots of great goodies!
The first thing that caught my eye once I opened my box was the "Reduced Guilt" Brownies. Traci over at
TJ's Test Kitchen
had recently posted about these brownies, but we don't have a Trader Joe's here in Oklahoma so I was so thrilled I was going to get to try them out for myself. You can make them as a batch recipe, or there's also a single serving recipe as well!
I also got another box of the mushroom & herb risotto. I got some of this in my box last month from Whitney, so since it's been sent in my FPP package two months in row I knew it must be good! I had made it on Wednesday night with oven fried chicken and it was delicious!!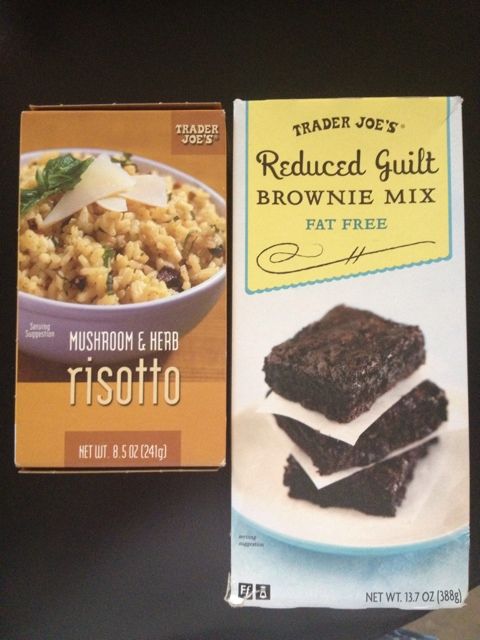 Maria also sent me some wild berry granola chips, dried mango and a zone perfect bar. The granola chips were really tasty. They were the perfect amount of sweet, and so crunchy. The only down side to them is a serving is only 6 small pieces. The zone bar was also good. I'm always a little weary of protein bars because some of them taste so bad, but this was a chocolate coconut crunch and I really liked it.
She also sent some seasoning and marinade. I haven't gotten things like this before, but I loved that she me some new ones to try!
This definitely gave me some ideas for the FPP package I'll send next month! ;)
She packed a balsamic glaze that I can't wait to try on grilled chicken breast, and also the Trader Joe's 21 Seasoning Salute.
I again lucked out and got a great foodie penpal for June. Thank you so much Maria for all the goodies! I sent a package this month to Jennifer in Roslindale, MA. I hope she's enjoying the things I sent her way. If you'd like more information about becoming a foodie penpal or want to sign up, visit Lindsay at
The Lean Green Bean
. until next time.