This month was my first time to participate in a "food swap" called foodie penpals. You can read more about foodie pen pals
here
, and see how it got started, how to sign up, etc. I heard about it via a twitter friend, and went to
The Lean Green Bean
to sign up. I've also loved being a follower of Lindsay's blog now. She has some good recipes and great healthy living tips!
I discovered my food pen pals box on my porch Sunday afternoon (April 15). We had been out most of the day Saturday (which is when it was delivered), so it was an exciting surprise when I came across it that Sunday afternoon. I immediately went inside the house to open it and see what goodies I received! My box came to me in Oklahoma from Rebecca in Ohio. You can check out her blog
here
.
The first thing I saw when I opened my box was a small package from a pet bakery. She had written on there, "for puppy." I thought it was SO thoughtful and sweet of her to send something for Honey too. There were
adorable
doggie treats inside, and Honey has loved them all!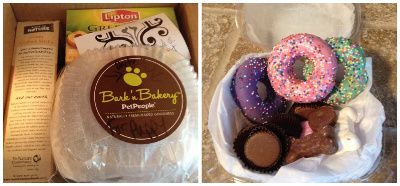 She sent me some great snacks! One of my new favorite things (I discovered not too long before getting her box) is the Justin's all natural chocolate hazelnut butter. She sent me some of that with all natural honey graham sticks. It goes great together! The hazelnut butter is also great with apples. I also got some berries & cherries nut crunch. It's 100% natural and fiber enriched... this stuff is YUMMY! I'm going to have to find some here. It's the perfect amount of sweet and salty.
Another thing in the box was black rice. I had never seen or heard of black rice before, but I'm anxious to try it. She placed sticky notes on everything with either something to pair it with, or how she likes to have it. She suggested the black rice with a raspberry vinaigrette and fruit, kind of like a salad. She sent oats for hot cereal and included a recipe for those, and also sent me a box of her favorite tea.

So far everything I've tried I have liked! Rebecca was a GREAT first pen pal to have! She definitely set the standards high, and also gave me some ideas for the box I send next month. Thank you Rebecca for all my goodies! I have enjoyed everything, and appreciate all your thoughtfulness. Honey said thanks for her treats too!
I sent a penpal box to Lauren in MA.You can check her blog out
here
. I sent her a few of my favorite things, and I hope she enjoyed them. I really enjoyed participating with foodie penpals, and I plan to stay with it for a while. It's a fun way to connect, and who doesn't love getting a box of surprises??! until next time.