It's Monday again... however, we have 5 days of work and then a long weekend around the corner! So that's something to look forward to this week! :) Hope you had a great weekend, ours was good and very productive.
Friday evening we went out with some friends for dinner and cocktails. It was a fun, low key evening. Saturday morning we were up and at early. Clete's buddy Logan came and picked him up and they were off to get sod and start on our backyard. I got up early, cleaned house and started laundry. Late morning I left to take my car to get the front windows tinted... it's something I've wanted done for quite a while, and I finally got it done. I am happy with the turn out!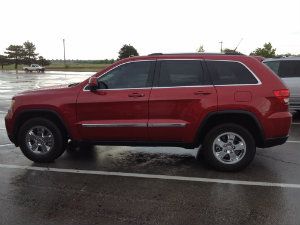 After finishing up with that I was off to the grocery store and do some other errands I had. When I got back home that afternoon, Clete and Logan had been hard at work. Our backyard was coming along great! It's so nice to finally have real grass back there.
top: before, bottom: after.
They worked for a good 6 hours back there and got it all finished up for the most part. There are a few places Clete needs to patch, but for the most part it's finished. It's great to finally have a real yard after living there for over a year now. We are both so excited, and Honey likes having the grass too! It looks great, and I'm so happy the hubs worked super hard and had help to get it done. We are blessed with great friends who are always helpful. A special thanks to Logan for helping on his day off, and for using his truck to haul it. We still owe him a car wash and dinner!
Clete and I are both so happy with the turn out. Our yard looks SO good now!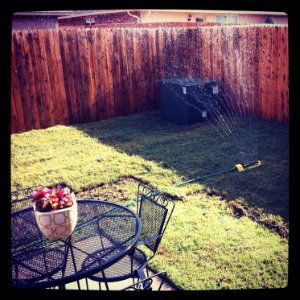 This morning, I also learned about the loss of a girl I had the opportunity to meet during college in my participation with Relay for Life. After meeting her, we also discovered that were both Alpha Phi's just at different universities. Ann Michele King lost her 8 year battle with cancer yesterday sometime. My heart is so heavy for her close friends and family, but I also know she's now cancer free and dancing with Jesus in Heaven. It was such a pleasure knowing her, even though I didn't know her well. She was uplifting, and even in her weakest moments she was such an inspiration. She had a smile that could light up the room, and I am so glad I had the opportunity to know her. It breaks my heart though, because Ann Michele was only my age. She was taken from this earth much too soon, but she left a wonderful legacy behind her in her short 25 years. Rest in peace Ann Michele.
until next time. XO