Who doesn't love fried zucchini? Growing up in Muskogee, there is a local restaurant that used to be one of the best places to eat in town. They had awesome fried zucchini, so I always compare to that. Every time we'd go there to eat, we always got it for an appetizer. My mom (MK) always made a this special sauce (sour cream and ketchup... don't knock it until you try it.) that we dipped it in, and it was so yummy! mmmm...
It's no secret that fried foods are
not
good for us... and let's get honest with ourselves, sour cream isn't the healthiest of things either. So I decided to take on making a healthier version of the two things. It was an experiment, but it turned out pretty good! I need to make a few modifications to the zucchini next time.
oven fried zucchini.
ingredients.
+ 2 large zucchini
+ 1/2 cup panko breadcrumbs
+ 1/2 packet dry ranch seasoning
+ dash of salt and pepper
+ 1 Tbs olive oil
(I'll use something different next time because EVOO is too heavy to get the zucchini crispy.)
directions.
1. Slice zucchini into thin slices.
2. Combine breadcrumbs and dry ranch seasoning in a medium mixing bowl.
3. In another mixing bowl, combine olive oil, zucchini slices, salt and pepper. Making sure each zucchini slice gets coated with a little olive oil.
4. Dip each slice of zucchini in the breadcrumb mixture, coating each side.
5. Place onto baking sheet and bake on 350 for 30 minutes.
MK's zucchini sauce.
ingredients.
+ 6 oz fat free Greek yogurt (I prefer 0% Chobani)
+ 1/4 cup ketchup (I prefer Heinz)
directions.
Combine two ingredients in a small bowl and mix together until blended.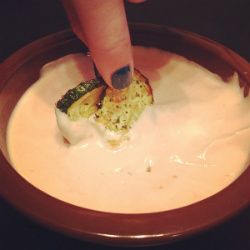 The sauce turned out GREAT! I am convinced that 98% of the time Greek yogurt can take the place of sour cream. The zucchini however, wasn't as good as I hoped. Since I used olive oil, by the time I got the actual zucchini crispy the breadcrumbs were a little too done. Next time, I'll use PAM or cooking spray instead of olive oil. Thanks
Tracey
for that tip! (: It was definitely an experiment, and for the most part it turned out well. I now know how to better improve it for next time I make it. until next time. XO